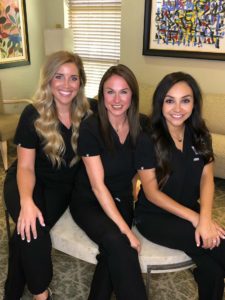 Chances are that you can't turn on your TV, phone, or computer without instantly seeing a story about COVID-19, and under that, you'll likely find some creative ways people are spending their extra time at home. Due to the nationwide quarantine, most dental offices are only seeing patients for severe emergencies, so taking proper care of your teeth at home is more important than ever. Thankfully, these quick and easy hygiene tips will ensure your smile stays bright and healthy during this unique time!
Tip #1: Two Minutes
You've probably heard that you should brush your teeth twice a day since you were a small child, but did you know that you should be doing it for two minutes each session? Most people don't take nearly that long, meaning they leave behind a lot of plaque and bacteria that could lead to cavities. Most electric toothbrushes have a timer, but if you (or your children) use a manual brush, be sure to set one on your phone. Each quadrant of your mouth should be cleaned for about 30 seconds. To liven up your oral hygiene, you'll find plenty of playlists online with songs that last the necessary two minutes!
Tip #2: Time to Start Flossing
When someone doesn't floss, they essentially leave about 40% of their teeth surfaces unclean, which cannot only lead to cavities, but persistent bad breath and gum disease as well! If you don't already floss once a day, now is the perfect time to start—no one wants to be stuck at home with somebody who has less than fresh breath! To help you or your child get into the habit, you can floss before brushing to make sure it isn't forgotten, and initially, you can do it just a few times a week before it becomes a daily part of the routine.
Tip #3: Avoid Grazing
"Grazing" is when instead of eating a full meal in one sitting, you snack throughout the day. This is more likely to happen at home where all your treats are, and unfortunately, it can be very damaging for your teeth. Most snack foods are packed with sugar (even savory starchy ones like chips), which is well-known to cause cavities, and consuming these foods for a long period of time continually bathes your teeth in this bacteria-fueling substance. This can lead to more damage because your teeth are constantly under assault. Make sure you and your loved ones still have healthy meals throughout the day and only enjoy snacks occasionally.
The last thing anyone wants to deal with right now is a toothache, and these simple tips will go a long way in making sure one doesn't develop. Of course, if you ever have a serious dental problem, you're always welcome to call your dentist, and if necessary, they'll see you right away to stop any urgent pain. Be sure to reach out to them if you have any ongoing care questions as well!
About the Author
Dr. Michael Kirk is a general, restorative, and cosmetic dentist in Oklahoma City who has been serving local families for over 25 years. Right now, his office, Grand Dental Studio, is only seeing patients for emergencies, but you're welcome to call any time if you have concerns. If necessary, we'll see you right away and take extra precautions to ensure your problem is solved and everyone stays safe. You can contact our team anytime by clicking here.