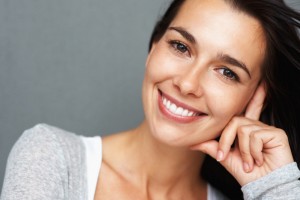 Are you unhappy with the appearance of your smile? Are your teeth yellowed or stained and over the counter whitening solutions just aren't getting the job done? There's no need to hide your smile any longer. At Grand Dental Studio we can help improve your smile with teeth whitening solutions.
Teeth whitening is a great cosmetic dentistry solution that can have a big impact on both the appearance of your smile and your self-esteem. We have a variety of teeth whitening solutions to meet all your smile needs, such as in-office, take-home and laser teeth whitening. Our caring staff will determine the right solution for your smile.
We would also like to introduce our new and improved in-office power whitening.  After just one hour of treatment, the brightness of your smile should increase at least two shades and as much as six or seven shade. Everyone's smile is different so your results will vary. Another benefit of this specific gel is the uptake of fluoride to decrease temporary and prolonged sensitivity. We have never seen better results from any other whitening products on the market.  The entire process is relaxing, easy, and pain free. Power whitening is a great way to help our patients feel good about their smiles once again.
Interested in learning more about a dental checkup or some of our other cosmetic dentistry services? Call us today at Grand Dental Studio to schedule your appointment. Our Oklahoma City dental office is conveniently located for patients who live or work in the greater OKC area.