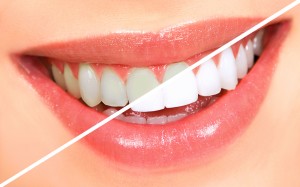 Why not welcome the New Year with a new and improved smile? Luckily, our dentists and experienced team are able to bring your smile from drab to wow! Whitening your teeth can really make a difference on your interaction with others as well as your self-esteem.
We now offer teeth whitening to transform your smile, and it has proven to be extremely effective. With whitening your teeth, we are able to make your teeth have a several shade difference, and the results can last longer with little at-home maintenance.  If you are worried about tooth sensitivity, don't worry, our clients have experience little to no sensitivity after the whitening is performed. Being 100% safe for your teeth and gums, you will be able to complete your look with a radiant smile. If you think your teeth are beyond the point of help, our teeth whitening service is able to work miracles, and you never know unless you try.
There are several benefits to taking advantage of our teeth whitening service. You will have a rediscovered self-esteem, giving you the confidence you may have lacked in the past. Also, you won't have to worry about covering your mouth every time you laugh or smile from embarrassment. Overall, you will be a new you, and don't you deserve that for 2014?
Interested in learning more about a dental checkup or some of our other cosmetic dentistry services? Call us today at Grand Dental Studio to schedule your appointment. Our Oklahoma City dental office is conveniently located for patients who live or work in the greater OKC area.