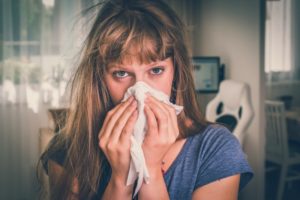 Cold and flu season is upon us, and if you're like most people, you definitely don't have time to get sick. While coughing, sneezing, and fever are all common symptoms, many people don't know that their chances of developing cavities rise as well whenever they have the cold or flu. Why? Because many remedies designed to help you deal with these ailments are actually bad for your teeth! Thankfully, by keeping a few key things in mind, you can reduce your cold/flu symptoms without harming your smile in the process.  
Tip #1: Keep Brushing & Flossing
When you're under the weather, it's very tempting to skip your oral hygiene routine in the morning as well as at night. A little extra sleep is almost irresistible! But, ignoring brushing and flossing will only cause you further headaches down the line, as they are your first line of defense against cavities. After your nose clears up and the coughing stops, the absolute last thing you want to have to deal with is a toothache!
Tip #2: Use Sugar-Free Cough Drops
Cough drops can be a lifesaver when it comes to soothing a raw throat, but unfortunately, many of the most popular ones are packed to the brim with sugar. Because these cough drops are designed to stay in the mouth for extended periods of time, they continually bathe the teeth in sugar, which is essentially the fuel oral bacteria needs to cause cavities. There are many sugar-free options available, so be sure to read a few labels before selecting your chosen flavor.
Tip #3: Water, Water, & More Water
When your nose is congested, you're more likely to breathe through your mouth, especially while you're asleep. Many common cold and flu medicines cause a decrease in saliva production as well, and both of these factors can lead to dry mouth. In addition to not feeling very nice, this creates the perfect oral environment for harmful bacteria to multiply and damage your teeth. To counteract this, you should never be too far away from a glass of unflavored water. Tap water is even better because it contains fluoride, which actively fortifies your enamel. Water is also a better choice compared to teas or sports drinks that contain a lot of added sugar as well.
Tip #4: Remember to Switch Out Your Toothbrush
Once you start feeling better after having the cold or flu, you need to throw out your toothbrush and get a new one. The germs that were making you sick may still be present on your old toothbrush, which could infect you again if you continue using it.
Dealing with a cold or flu is never fun, but by following these simple guidelines, you can minimize your symptoms and keep your smile healthy at the same time, ensuring you'll be able to actually enjoy the colder weather before it goes away.
About the Author
Dr. Michael Kirk is a general, restorative, and cosmetic dentist based in Oklahoma City who has been taking care of local smiles for more than 25 years. He believes that knowledge is power when it comes to protecting your oral and overall health, so he always takes the time to educate his patients and share day-to-day tips that help stop problems before they even start. To learn more about protecting your teeth during cold and flu season, give us a call today.