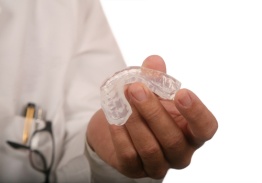 In our last post we brought up the start of a new school year, which brings to mind a saying we're sure you're familiar with—back to the daily grind. That's what August and September can feel like as teachers, students, and parents re-structure their time around another school year.
But there's a big difference between that phrase—"the daily grind"—and a very serious condition known as bruxism. Often triggered by stress, which a new school year can cause, bruxism involves the unconscious grinding of teeth. Patients who struggle with bruxism may grind their teeth anytime, but it's most common while they're asleep.
The reason why teeth grinding is something to be concerned about is that all that pressure and motion can injure teeth, as well as the muscle and tissues around the jaw.
But the good news is that teeth grinding isn't just a problem you have to live with. It can be easily treated with a nightguard from Grand Dental in Nichols Hills. Nightguards are made to prevent teeth from grinding, preserving oral health and eliminating the symptoms of bruxism.
Symptoms of bruxism include:
Sore jaw
Headaches
Earaches
TMJ dysfunction
If you think you might be struggling with bruxism, our doctors would love to help. Call Grand Dental in Nichols Hills today to reserve a visit. With a nightguard, we can help you eliminate uncomfortable systems to enjoy healthier teeth and gums.