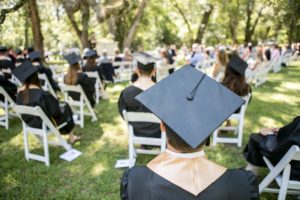 This summer is going to be a busy one for your family. Your child is graduating high school, which means in addition to the big ceremony itself, there are going to be multiple parties, dinners, and all sorts of gatherings between family and long-time friends. And, that's not even considering the planning that goes into getting ready for college or a big trip. There's a lot to think about, and as a parent, you just want to help your child. What is the best way to do it? Thankfully, with a little assistance from your dentist in Oklahoma City, you can take a little bit off of their plate and ensure they'll enjoy this summer as much as possible.
One Last Checkup & Cleaning
If your child is going off to college and will be living away from home for the first time, one of the best things you can do is schedule a checkup and cleaning for them. It might be the last time you do this, and it will ensure that wherever life is about to take them, they won't have to deal with a surprise cavity or unexpected toothache. Just be sure to talk to them about their social calendar so you know the best time to fit in this appointment!
The Perfect Time for Whitening
Whatever your child's plans are for the coming summer, needless to say, there are going to be a lot of pictures taken. So, a perfect way to show you care is by getting them professional teeth whitening in Oklahoma City. This will ensure they feel confident showing off their pearly whites no matter the situation, plus you can trust that their treatment will be much more effective and safer compared to any store-bought or DIY alternative. You can help your child look great so they feel great during this pivotal time.
Get Them Ready for Future Appointments
Like we alluded to above, this summer may be the last time you schedule a dental appointment for your child, because moving forward, they will be old and responsible enough to handle it themselves. To help them in the future, it's recommended that you go over some basics about dental visits before they are out of the house, i.e. that they should visit the dentist at least twice a year for checkups and cleanings.
Also, if they will still be on your dental insurance, you should go over your plan with them so they have a rough idea of what is and isn't covered. It would also be wise to give them the pertinent policy and membership numbers so any dental team they talk to can quickly validate their coverage.
Just because your child is now a young adult doesn't mean you can't help them out with their oral health. Even the most independent and busy child will appreciate you looking out for their smile one last time before they move on to the next phase of life, and you can have the peace of mind that they're ready for whatever the future holds.
About the Author
Dr. Michael Kirk is a family and cosmetic dentist that has served the Oklahoma City area for over 30 years, and as a father of three, he knows how important the summer after graduation is! He's more than ready to help your child get what they need so the last thing they have to worry about is their teeth. If you'd like to schedule a checkup and cleaning or ask any questions, you can get in touch with the Grand Dental Studio team by clicking here.