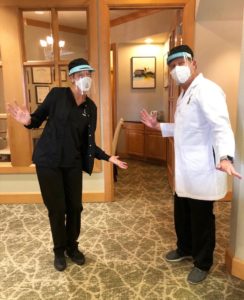 We have worked very hard at Grand Dental Studio to make our practice as safe as we possibly can every day. We have reviewed all sanitation procedures and all team members wear masks. We have implemented dozens of new protocols, many of which focus on removing aerosols. Our virtual check-in and screening processes have given our patients comfort and peace of mind whenever they visit the dentist in Oklahoma City. Read on to learn more about everything we're doing to keep you, our team, and the community safe.
Adapting to the New Normal
At Grand Dental Studio, we have implemented over 22 new safety measures, and we review and modify them weekly as needed to protect everyone in our environment. "Overall, I think that dentists across the country feel their practices are very safe. Though we can't eliminate all risks, we do everything we can to control our environment. Really, that is what we have always done at Grand Dental Studio. That is why I believe my office is the safest place I go every day," says our own Dr. Michael Kirk. "I control my environment in my office. Controlling what happens outside my office…now that is an entirely different deal!"  he laughs.
Why Dental Care Shouldn't Be Delayed
The loss of a daily routine has actually increased our patients' dental needs. Teeth grinding due to stress is up, and brushing and flossing are down as good habits slip when people are faced with life changes and stress. Many people have put off routine dental cleanings, and we encourage everyone not to do that. People with gum or tooth pain have been delaying going to the dentist, and the problem just gets worse. "In dentistry, things only get worse," Dr. Kirk says. "As time goes on, solutions only become more complicated and expensive. My advice is to get yourself and your children into a good daily brushing and flossing routine and schedule an appointment with your dentist. Your health will improve, and you will be grateful later."
We're Ready to See You
We provide comprehensive general dentistry to the Oklahoma City community and beyond. At Grand Dental Studio, we serve men, women, and children. Our mission to be Oklahoma's Best Dental Experience has never been more important. We are anchored in five key principles: 1) Start on time, 2) End on time, 3) Never harm anyone, 4) Follow the "Golden Rule", and 5) Provide exceptional patient care. Dr. Michael Kirk and associates look forward to welcoming you and your loved ones into our office soon so we can protect your smiles and safeguard your health both now and well into the future.