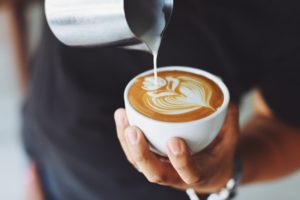 For many people, their day doesn't officially start until they've had their first sip of coffee. Whether it's hot, iced, black, mixed, pressed, dripped, or any other variation, people around the world just can't get enough of the flavor (as well as the nice caffeine boost). However, your dentist in Oklahoma City wants you to know that coffee can potentially harm your smile, both health and appearance-wise. Does this mean you have to give it up? Of course not! In today's blog, we discuss the most common oral health risks associated with America's favorite morning beverage (and what you can do to mitigate them).
Stains
Why the Risk?: Like wine, soy sauce, tomato sauce, and other foods and beverages that are notorious for staining the teeth, coffee contains compounds called tannins. These have dark pigments that can lodge themselves in the microscopic pores of your enamel, darkening your smile over time.
What You Can Do About It: One trick a lot of people use is to drink their coffee through a straw, which minimizes the contact between the liquid and the teeth. But, if you're devoted to your favorite mug, your dentist says simply brushing and flossing each day is one of the best ways to prevent long-term tooth discoloration, as it removes the leftover coffee particles on your teeth. Staining can still occur, however, in which case you may want to get a professional whitening treatment, which can remove stubborn coffee stains in as little as an hour.
Cavities
Why the Risk?: Coffee itself doesn't contain a lot of sugar, but what do most people add to their coffee? Typically, sugar, cream, and sometimes chocolate, caramel, whipped cream…the list goes on. Consuming coffee with these additives is basically like drinking a soda every morning because of all the added sugar.
What You Can Do About It: Other than just switching to drinking black coffee, dentists recommend minimizing the amount of sugary additives. For example, instead of two sugar packets, try reducing it to one. It's also wise to drink your coffee relatively quickly. Sipping on it for hours allows the sugar to linger on your teeth and do more damage. An easy trick, however, is to pair your coffee with water. Simply rinse your mouth with water after a few sips to wash away the excess sugar so it doesn't have a chance to build up.
Enamel Wear
Why the Risk?: Coffee on its own is slightly acidic, which can slowly weaken the enamel, and iced coffee can sometimes lead to chipped or damaged teeth because people like to chew on the cubes after the liquid is gone.
What You Can Do About It: After you finish your coffee, wait about 30 minutes, and then brush your teeth. Brushing immediately afterward can actually lead to more enamel wear because your teeth have been softened by the acid in coffee. As far as the ice, this is an easy fix—you should never chew ice, as it's hard enough to break enamel. If you prefer your coffee cold, you can simply order it chilled without ice, or there are several prepackaged, refrigerated coffee drinks available in stores.
And of course, an easy way to largely prevent all of these problems is to reduce your coffee intake overall. Maybe instead of two cups a day, see if you can get by on one. This, along with the tips above, will enable you to enjoy your morning brew with the peace of mind that your smile is well protected.
About the Author
Dr. Michael Kirk has been serving the Oklahoma City community as a general, cosmetic, and implant dentist for almost 30 years, and in addition to providing many hands-on services, he also likes to educate his patients so they can take great care of their smiles between appointments. To get more daily tips that will preserve your dental health, or to schedule your next checkup and cleaning, you can contact Grand Dental Studio by clicking here.