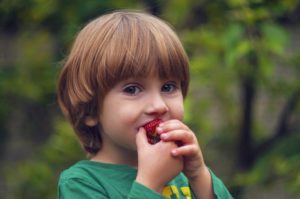 One of the most important decisions a parent makes every day is choosing what their child is going to eat, as it can impact their overall health, growth, and weight. But, it's important to keep in mind that a child's diet can greatly affect their oral health as well. Even with consistent brushing and flossing, a poor diet can still leave someone vulnerable to cavities and gum disease, especially those who still have their baby teeth! March is National Nutrition Month, so today, a dentist in Oklahoma City is going to share 3 essential diet tips that every parent should know.
Limit Snacking
Many parents keep snacks on-hand to quickly feed a hungry child between meals, but this should be kept to a minimum. Even if your child is eating healthy snacks, exposing their teeth to food more often throughout the day raises their risk of tooth decay and other oral health problems, as it increases the overall time their teeth are covered in sugar and leftover particles. If your child is always hungry between meals, try increasing the size of the meals themselves.
Ensure They Always Have Water
When it comes to oral and overall health, water is the best beverage choice by a long shot. It doesn't have the sugar or acidity found in soft drinks or juices, plus tap water is usually fluoridated, meaning it actually strengthens enamel. Routinely drinking tap water is especially important for children as the enamel on their baby teeth is relatively soft and more prone to decay.
An easy way to encourage your child to drink more water is to simply ensure they always have it close by. Give them a reusable water bottle to carry around and fill it up at the beginning of each day, so when they get thirsty, it's easy to choose water, lowering the chance they'll go and grab a soda or juice.
When to Offer Sweets
Every child deserves a sweet treat every now and then, but how can you reward them while minimizing the risk to their teeth? It's all in the timing. Whether your child is eating candy, brownies, or cake, they should only be eaten after your child has finished a healthy meal. Because they are relatively full, they'll be less likely to overindulge, plus their saliva production will be naturally increased, helping wash away excess sugar on their teeth. In the end, this method will reduce the amount of cavity-causing material your child has to remove when brushing and flossing.
These tips are easy to implement and deliver immediate benefits, and in the long run, they'll help your child avoid the most common oral health issues so they always have a beautiful smile that's ready to be shown off.
About the Author
Dr. Michael Kirk is a family dentist in Oklahoma City who has been serving the area for over 25 years. He is constantly educating himself to improve his knowledge and skills. A father of two himself, he can offer personalized oral hygiene tips for your child in addition to providing gentle checkups and cleanings as well as many other services. Is it time for your child's next dental appointment? If so, contact us today to schedule.