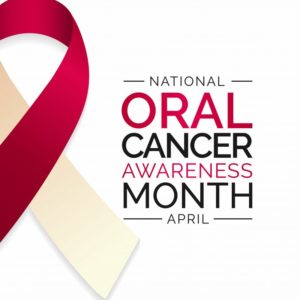 There is a disease that doesn't get a lot of attention, but it claims at least one life each and every hour here in the US. It's called oral cancer, and while it doesn't receive the same kind of attention as breast, lung, or blood cancers, it is actually among the deadliest varieties because it is widely outside of the public consciousness. The medical community is striving to change this by officially making April Oral Cancer Awareness Month. In today's blog, you'll learn what causes this disease and how a simple checkup at the dentist could literally save your life.
What is Oral Cancer?
Oral cancer refers to any type of cancerous growth that occurs on the gums, tongue, cheeks, or lips. A genetic predisposition for the disease, tobacco use, excessive alcohol use, sun exposure, and the HPV virus are all known causes. It is estimated that about 53,000 people will be diagnosed with oral cancer this year alone, and of them, only 25% will survive the next 5 years because the disease often isn't discovered until its later stages.
The Symptoms of Oral Cancer
The early symptoms of oral cancer can be easy to miss but typically become much worse over time. They include:
Oral sores that don't heal after two weeks
Noticeable growth in the mouth
Discolored patch of oral tissue
Scaley or excessively dry oral tissue
Loose teeth
Sore tongue
Chronic swelling, sore throats, and hoarse voice
A feeling like something is stuck in the throat
How Your Dentist Can Help
When you go to the dentist for a checkup, in addition to searching for signs of cavities and gum disease, they will also be on the lookout for indications of oral cancer. Their trained eyes are able to spot irregularities in the oral tissues that you likely won't notice. The idea is to find the disease as early as possible so it can be treated right away, which is the most effective way to handle it. By keeping up with your six-month checkups, you allow your dentist to potentially catch this disease before it progresses to the point of being deadly.
If your dentist finds something that may be a sign of cancer, they will organize for you to get a biopsy and diagnosis without delay. If further treatment is needed, surgery, chemotherapy, and radiation have all been shown to be extremely successful in eliminating oral cancer.
While regular oral cancer screenings with your dentist are essential, it's important that you contact them immediately if you ever notice any of the symptoms listed above between your appointments. That way, you can get the care you need before it's too late. A little knowledge goes a long way when it comes to oral cancer, and if you ever have any questions or concerns, your dentist will be more than happy to provide whatever you need to stay safe and healthy.
About the Author
Dr. Michael Kirk is a dentist in Oklahoma City who has been serving the community for over 25 years. He and his team always perform oral cancer screenings during every exam, and over the years, they have helped countless patients and families avoid tragedy. To learn more about oral cancer and how to prevent it, or to schedule a checkup and screening, click here to contact Grand Dental Studio today.