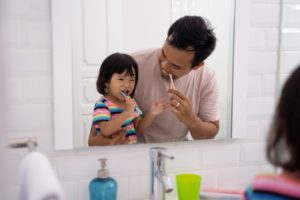 February is usually most closely associated with Valentine's Day, but did you know that it's actually National Children's Dental Health Month? Organized by the American Dental Association, it's a time where dentists, parents, and teachers all come together to emphasize the importance of oral care for growing smiles. If you're concerned about your children's dental health in Oklahoma City, don't worry, because these 4 simple tips will make sure they have plenty to smile about in 2021.
Two Whole Minutes!
According to the ADA, people of all ages should brush their teeth for about 2 minutes twice a day, but the national average is around 45 seconds. That's a lot of lost time that means the mouth isn't being cleaned as thoroughly as possible. Of course, as any parent will tell you, getting a child to brush in the first place can be a challenge, let alone having it last for 2 minutes. That's why it's a good idea to not just set a timer, but set a musical timer. There are countless apps for Android and iOS you can use to do this, and some of them even turn oral hygiene into a game that will help your child brush correctly without even thinking about it. Research has shown that by going for 2 minutes, a person can drastically reduce plaque accumulation and cavity development.
Trust Tap Water
Fluoride is a mineral that has been added to public water sources for decades because it has been shown to strengthen the enamel and make it more resistant to decay. It is especially helpful for children because the primary (baby) teeth are weaker and more susceptible to cavities than adult ones. So, instead of having your child primarily drink bottled water (which usually does NOT have fluoride), one of the best investments you can make in their oral health is a reusable water bottle that they frequently fill from the tap. This will help them stay hydrated and get plenty of fluoride so their pearly whites stay nice and strong.
Make Oral Hygiene a Family Activity
As we touched on earlier, getting a child to brush their teeth consistently can be a challenge, but one easy way to help them maintain the habit is to simply brush and floss with them. Young children are prone to copying their parents and older siblings, so by making oral hygiene a group activity, you can help them get into the routine while also enjoying quality family time.
Don't Forget the Dentist
When it comes to your child's oral health, it's important to know that you aren't alone. Their dentist is ready to provide advice and answer any questions you might have in addition to giving your little one regular checkups and cleanings. You should start taking your child to the dentist as soon as their first tooth appears, and at around age 2, they will start visiting twice a year just like you.
With everything else that is going on in the world, the absolute last thing any parent wants to deal with is a preventable dental issue. By utilizing these tips and staying in close contact with your child's dentist in Oklahoma City, you can make sure they're always ready and eager to smile.
About the Author
Dr. Michael Kirk is a general and family dentist who has served Oklahoma City for over 25 years. He welcomes patients of all ages into his practice, and he has plenty of experience helping little smiles feel comfortable in the dental chair. To get more easy tips on how to protect your little one's smile, or to schedule their next checkup and cleaning, contact Grand Dental Studio today.