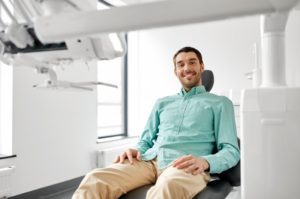 Even though it's already 2021, people are still being asked to stay at home as much as possible by health officials to keep everyone safe. For many, this is as good an excuse as any to skip their routine dental appointments. However, this is a big mistake, even during a pandemic! Routine dental appointments accomplish much more than simply helping you avoid cavities—in fact, they are essential for maintaining your long-term dental health in Oklahoma City. If you don't have a dental appointment scheduled yet, here are a few reasons why you should very soon.
Do Your Future Self a Favor
Most dental problems take a very long time to develop and may be unnoticeable at first. By the time you feel pain or experience discoloration, the issue is likely already very serious. However, at your checkup, your dentist has the chance to spot the early signs of common dental ailments way before you notice that anything is wrong, allowing them to provide the care you need using conservative methods. Just by attending this type of appointment two to three times a year, you'll enjoy better oral health, a more attractive smile, and spend less on your dental care overall.
More Than Cavities
When your dentist gives you an exam, they are looking for more than just cavities. Whole-body ailments like heart disease and diabetes show obvious oral symptoms, ones that a dentist can easily notice. If they see something, they can inform a patient and help them get the treatment they need before they experience more dire complications. Oral cancer screenings are a typical part of checkups as well, which can enable patients to treat the disease early to maximize the likelihood of a full recovery.
Time for a Chat
Checkups and cleanings are also a great opportunity for you to talk to your dentist in Oklahoma City and ask questions. Is there something you should adjust about your oral hygiene routine? What type of toothbrush and toothpaste should you be using? If you're less than thrilled about the appearance of your smile, which cosmetic procedures would suit you best? Dentists are always happy to share their knowledge and educate patients so they can get the best care possible both at home as well as in their office.
Why You Can Feel Safe
Even before the pandemic, dental offices were some of the cleanest places you could visit. Thanks to the relatively small space and extensive training of the personnel, sanitation and infection control measures were already at a very high level. To respond to the new challenges of today, Grand Dental Studio has gone a few steps further by installing HEPA air filtration with UV lighting that kills up to 99% of bacteria and viruses in the air. We've allowed for more time between patients so we can clean the office with hospital-grade products between each appointment, and as you'll see, our entire team is wearing N95 and ASTM Level 3 masks.
A regular dental appointment can offer something that is hard to come by these days—peace of mind. Just by scheduling a checkup and cleaning, you can know that your smile is in great shape, and that's the kind of good news everyone can use!
About the Author
Dr. Michael Kirk is a graduate of the University of Oklahoma and has been practicing in Oklahoma City for more than 25 years. His practice was one of the very first businesses to implement new health protocols at the beginning of the pandemic, and he has continued to be a leader in making sure that our patients, our team, and our community stay safe. To learn more about our commitment to your safety, or to schedule your next checkup and cleaning, contact us today.