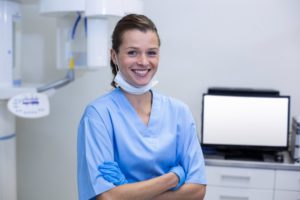 October is usually associated with the leaves starting to change colors and Halloween, but it's also something else: National Dental Hygiene Month, a time where the work of dental hygienists around the country is recognized and celebrated. At Grand Dental Studio, Dr. Michael Kirk and Dr. Connor Hieger rely on our hygiene team every day to take great care of our patients, so in honor of their efforts, we're going to share their advice on how you should be practicing dental hygiene in Oklahoma City so you can enjoy a healthy, beautiful smile for many years to come.  
1. Brush, brush, brush
The foundation of everyone's oral hygiene routine should be consistent brushing, however, our hygienists want to remind people that just brushing two to three times a day isn't enough—it's important to brush for the right amount of time as well! They recommend brushing for at least two minutes each session. To help yourself (and any little smiles you might have at home), it's a good idea to set a timer on your phone. If you're having issues getting your child to brush for the entire time, there are a multitude of apps that play little songs or have a cartoon character your child can brush with to help them stay on task.
2. Don't forget flossing!
Despite what you may have seen in the news over the years, flossing is still essential to keeping your mouth clean and healthy. It's able to remove plaque from those small spaces between your teeth, areas which your toothbrush simply can't reach! You should floss at least once a day, preferably in the evening after you've had your last meal. It's also a good idea to keep a little floss on-hand at the office so you can make sure nothing is stuck in your teeth during a big meeting!
3. Give yourself a rinse
Did you know that your teeth actually account for less than half of the area in your mouth? Bacteria can gather pretty much anywhere in your oral cavity, so it and your teeth should be cleaned regularly. After brushing and flossing, give your mouth a nice rinse with an antibacterial mouthwash to remove food particles and bacteria from your cheeks, lips, and tongue. Be sure to use a mouthwash with fluoride that doesn't have alcohol, as this can lead to dry mouth.
4. Chew, chew, chew
Chewing sugarless gum for about 20 minutes after a meal has been shown in multiple studies to help prevent tooth decay. This is because it causes your mouth to increase saliva production, which naturally cleans it and removes various debris.
5. Come see us!
Of course, even if you follow a fantastic oral healthcare routine at home, you should still visit your dentist in Oklahoma City at least twice a year for checkups and cleanings. There are simply too many small areas in your mouth where problems can develop and go unnoticed, and checkups let your dentist catch and treat any minor issues before they can become a real headache. Plus, you'll get a refreshing cleaning from a hygienist, which will remove any plaque and tartar in your mouth as well as break up minor surface stains to keep your smile nice and white.
At Grand Dental Studio, we love the work that our hygienists do, and so do our patients—you can see it in their bright, healthy smiles! To get more daily tips about how you can take care of your teeth, or to schedule your next dental visit, give us a call today.