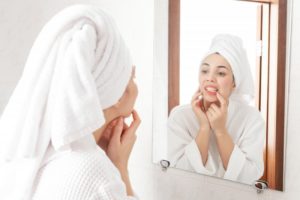 Veneers are by far one of the most popular cosmetic treatments available today, even if you're not just talking about dentistry. Once in place, they can be expected to last for about 15-20 years, and while that is certainly a long time, it's far from forever. Thankfully, replacing veneers in Oklahoma City is a fast and easy process. For most people, the tricky part is knowing when they should see their dentist so their smile can be updated, which is why we're highlighting the 4 telltale signs that it's time for you to get new veneers.
1. A Veneer is Falling Off
This one might seem painfully obvious, but you would be amazed by how many patients have a veneer fall off and simply stick it back onto their tooth, using a little toothpaste or denture adhesive if necessary. Needless to say, if one of your veneers ever comes completely out, then you should contact a dentist immediately.
2. There Are Obvious Chips & Cracks
Veneers, just like natural teeth, are exposed to a lot of daily wear and tear, primarily from chewing. While modern-day dental porcelain is extremely strong and durable, it's perfectly normal for a veneer to develop some noticeable chips and cracks as the years go by. It's best to visit a dentist as soon as you notice some so that the veneers can be replaced before any completely break.
3. The Veneers are Darkening
Each veneer is attached to a tooth using a small amount of dental adhesive, and over time, this naturally darkens. Eventually, the color may begin to show through the veneer itself, affecting the shade of the tooth. The adhesive can't be lightened, and the only way to fix the problem is to remove it and replace it.
Also, while dental porcelain is stain-resistant, it isn't stain-proof, so frequent exposure to richly pigmented foods and drinks like wine, sodas, and bright sauces can change the color. Unlike enamel, porcelain can't be whitened, so the only way to brighten the smile is to get new veneers.
4. A Veneer is Loose
The adhesive used to seat a veneer gradually wears down over time, so a person may notice that one or more becomes loose as the years go by. Once again, there is nothing that can be done to correct this other than remove the current adhesive and replace the veneer.
You can help your veneers last as long as possible by simply brushing and flossing every day, not chewing on hard objects, and regularly seeing your dentist for checkups. This way, you'll protect your investment, and as soon as a minor issue pops up, your dentist can address it quickly so that your smile always looks and feels its best.
About the Author
Dr. Michael Kirk is a cosmetic dentist in Oklahoma City who has served the area for more than 25 years. If you got veneers a long time ago and are unhappy with them, or you think it's time for them to be updated, he would be delighted to help you achieve the beautiful and functional smile you deserve. To learn more about your options and schedule an appointment, click here.