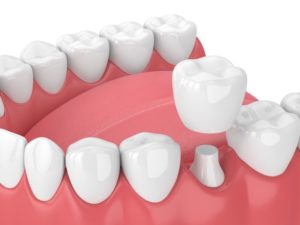 Dental crowns are one of the most versatile treatments in all of dentistry as they can be used to repair cavities, reinforce teeth with large fillings, prevent a cracked tooth from breaking, or even improve the shape of the enamel to create a more uniform and attractive smile. Whether you believe you need a dental crown or have already scheduled a visit to your dentist to get one, you're probably wondering, "What will happen during my appointment?" More certainty is always nice, so keep reading to see exactly what you can expect when getting this treatment.
Reshaping the Tooth
A dental crown works by fitting directly over the top of a tooth, which is why they are sometimes referred to as "caps." Your dentist won't place your crown over your tooth as-is, but rather they need to prepare it first. This will involve slightly reshaping it, which is done for a few reasons.
Firstly, this allows them to remove any broken, weakened, or decayed enamel that would only create more problems down the road, and it also makes room in your mouth for the crown. Otherwise, it would stick out and press up against the neighboring teeth. This involves numbing the tooth as well as the area immediately around it with local anesthetic and using an instrument to gently buff away enamel.
Taking an Impression
When your dentist is satisfied with the new shape of your tooth, they'll take a digital impression of it. This will be sent to a local dental lab and will be used to design and fabricate your final restoration. While this is happening, you'll be given a temporary crown that should allow you to eat, speak, and smile normally.
The Big Day
After about a week, you'll return to your dentist's office so they can remove your temporary and place your final dental crown, ensuring it stays rock-solid with dental cement. They will then make a few final checks when it comes to the fit and your bite. Finally, you'll have a chance to give your final approval by looking in a mirror, and if you like what you see, then you're finished!
Overall, the process of getting a dental crown is very comfortable and stress-free, as most dentists have performed the treatment countless times throughout both their education and career. You can relax in the chair and know that at the end, it will look and feel like nothing was ever wrong with your tooth in the first place.
About the Practice
Dr. Michael Kirk is a highly respected restorative, cosmetic, and implant dentist that has gladly served the Oklahoma City community for over three decades. Dr. Neeral Patel is a graduate of the University of Oklahoma's Advanced Education in General Dentistry program, one of the most elite residencies in the country. Together, they have literally placed thousands of crowns over the course of their careers while always prioritizing their patients' comfort, health, and appearance. To learn more about dental crowns or book an appointment at Grand Dental Studio, contact us today.