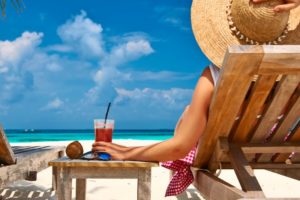 Out of all the places you could go this summer, the absolute last one you've probably considered is the dentist. But if you're struggling with missing teeth or an ill-fitting denture or bridge, a visit might just be the best thing you do all season. Why? You can start the process of renewing your smile and closing the gaps with dental implants, and there are several advantages to doing this during the summer versus other times of the year.
Time is On Your Side
If you're a parent, your schedule is pretty much set in stone during the school year between your child's academic and sports activities in addition to your own work responsibilities. Thankfully, they get a break during the summer, and so do you as a result. It's simply easier to schedule the necessary appointments to get dental implants when your calendar isn't already so full, plus you'll have more time to relax while recovering from the placement procedure.
You Can Still Enjoy Your Favorite Treats
After getting dental implants placed, you'll need to adhere to a softer diet while your gums and jawbone recover, and this process can take a few months to complete. But fortunately, you won't have to miss out on any of your favorite summer eats. Are you a big fan of ice cream, popsicles, shaved ice, or one of the infinite number of refreshing drinks that can help you escape the heat? Even if you're into traditional fair fare like corny dogs and funnel cakes, you can enjoy them all during your recovery, meaning you don't have to miss out on all the seasonal treats you look forward to.
A Better Holiday Season
Beginning the implant process now means that you'll likely be finished by the time the holidays roll around, meaning your smile will be strong and ready for all of your favorite foods (and people). Plus, you'll feel camera-ready for the loads of pictures that will inevitably be taken. Holiday treats tend to require much more chewing compared to traditional summer snacks, and with implants, you won't have to think twice between each delicious bite.
The only thing better than relaxing this summer is doing so while knowing you're dramatically improving your health and appearance at the same time, all while you're sipping a cool beverage on the beach.
About the Practice
Dr. Michael Kirk is a long-serving and highly respected implant dentist that has proudly taken care of the Oklahoma City community for over 30 years. Dr. Neeral Patel is a graduate of the University of Oklahoma's Advanced Education in General Dentistry program, widely considered to be one of the most elite residencies in the country. Together, they have completed countless hours of education and training dedicated solely to dental implants, so they are more than ready to help you start getting your new smile this summer! To learn more about dental implants and book an appointment before your summer really gets started, contact us today.