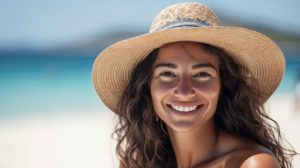 And just like that, it's already summer! Are you looking forward to spending some quality time on the beach in the coming months? While relaxing with the gentle waves in the background sounds perfect after a busy first half of 2023, you're not alone if the thought of being in your bathing suit around countless strangers makes you feel a bit nervous. Thankfully, you don't have to hit the gym or undergo some radical procedure to get the peace of mind that you look great in the sun. While there are literally thousands of "Beach Body" workout programs out there, the real way to make sure you feel confident this summer can be summed up in one word: veneers.
A Quick Summary About Veneers
Veneers allow your dentist to make a wide variety of dental flaws disappear using a single procedure, and it can typically be completed in just two to three appointments. Thin custom-designed shells of porcelain are fitted over the teeth to make them more symmetrical and attractive. They are often used to cover stains, chips, cracks, gaps, and even slight crookedness. If someone has seemingly perfect teeth (i.e. celebrities), most of the time, it's not genetics, but rather veneers that they have to thank for their stunning smile!
Why Veneers Are Perfect for the Summer
Yes, getting your smile upgraded with veneers can do wonders for your confidence at any time of the year, but they are particularly well suited to the summer:
Speed: Between trips, graduations, weddings, and children's activities, summer can get very busy very quickly. You can get a set of veneers in as little as two appointments spaced about two weeks apart, meaning fitting in the procedure is relatively easy.
Perfect for Any Occasion: Like we just touched on, there are several events that people plan during the summer, including once-in-a-lifetime trips or quick getaways to the nearest beach. While you'll have to carefully pack for different situations, a pristine and beautiful smile looks great anywhere and doesn't take up any space in a suitcase.
Fond Memories: From BBQs to family reunions and beyond, you're going to be smiling for the camera a lot over the coming months. Why not make absolutely sure you'll love how you look in pictures? Veneers can make that happen.
Looking Ahead: It's already summer, but fall will be here before you know it, and then it will be the holiday season! The great thing about veneers is that they can easily last and look like new for decades. That means the investment you make in your smile now will benefit you not only for the rest of this year, but for many more years to come!
About the Practice
Dr. Michael Kirk is a long-serving and highly respected cosmetic dentist that has proudly been a part of the Oklahoma City community for over 25 years. Dr. Neeral Patel is a graduate of the University of Oklahoma's Advanced Education in General Dentistry program, widely considered to be one of the most elite residencies in the country. Together, they have helped countless patients achieve their dream smiles using a variety of cosmetic services, including veneers, and they are eager to do the same for you! To learn more about this procedure or book an appointment before summer really gets started, contact us today.