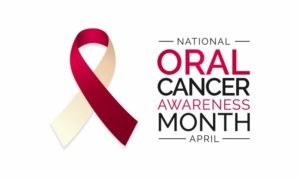 Oral cancer is a serious and often deadly disease that affects millions of people globally. Early detection and prompt treatment can have a significant impact on someone's chances of survival, making oral cancer awareness crucial. Regular checkups with a dentist and education on risk factors and common symptoms can all help to increase awareness and save lives. That's why April has been designated as Oral Cancer Awareness Month, because with a little knowledge, you can keep yourself protected.
Early Symptoms to Look For
The initial symptoms of oral cancer are quite subtle and can be easily missed. They often include lumps or thick patches of tissue in the mouth, tongue, throat, and lips. Other signs are difficulty swallowing, chewing, speaking, and moving the jaw or tongue.
A person might experience unexplained bleeding or numbness in the mouth as well as persistent bad breath or a sore throat that doesn't go away. In some cases, oral cancer can also cause someone to feel like there is something lodged in their throat. Due to the fact that many symptoms associated with oral cancer are similar to other oral health conditions, everyone is encouraged to see their dentist right away if anything touched on above occurs.
How to Lower Your Risk
Thankfully, the prevention of oral cancer is relatively simple. Firstly, quit smoking or using tobacco products if you do because they cause most oral cancer. Beyond that, consume a diet rich in fruits and vegetables, avoid excessive alcohol, and protect your lips from the harmful effects of the sun by using lip balm with SPF protection or wearing a hat.
It's also important to practice good oral hygiene such as brushing and flossing your teeth regularly. On top of at-home care, scheduling regular dental checkups allows your dentist to screen for signs of oral cancer to catch them as early as possible.
Your Dentist's Role
Your dentist plays a critical role in detecting and treating oral cancer. During a routine dental exam, they can identify initial signs, and if detected early, a dentist can refer the patient to an oncologist for immediate treatment after a biopsy and diagnosis. All in all, regular checkups can save lives by detecting oral cancer before it becomes too advanced.
About the Practice
Grand Dental Studio is led by Dr. Michael Kirk, a family and cosmetic dentist that has served the Oklahoma City area for almost 30 years, and Dr. Neeral Patel, a graduate of the University of Oklahoma's Advanced Education in General Dentistry program. They take oral cancer very seriously, so you will be screened for it at every appointment. Plus, you can always reach out to them if you notice troubling symptoms and need immediate attention. If it has been a while since your last checkup, now is a good time to schedule one, so contact us today to keep yourself protected.