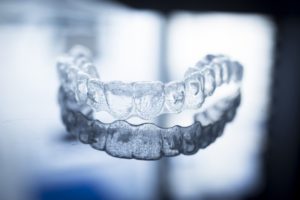 The wedding this past weekend was a great time because you got to catch up with a lot of old friends, but you certainly wouldn't be able to tell that by looking at your face in the pictures. As you scroll through them online, you notice that you're not actually smiling in any of them. Of course, you know why. Your crooked, crowded, and gapped teeth have made you feel self-conscious for years, and you would love to have them straightened, but the absolute last thing you want to do is bring more attention to them with noticeable metal braces. What can you do?
Fortunately, at Grand Dental Studio, we have a treatment that can give you the straighter smile you've always wanted without using braces. It's called Invisalign, and thanks to our unique, state-of-the-art approach, we'll make sure it gives you a smile you're always proud to show off.
What is Invisalign?
So Invisalign sounds great on the surface, but how does it actually work?
Instead of brackets and wires, Invisalign uses a series of custom-made clear plastic aligners to gently straighten the teeth. All a patient has to do is wear the aligners in a specific order, and after they have gone through the entire series, their smile will be completely straight. It's just that simple!
More and more patients are choosing to straighten their teeth with Invisalign because it offers a number of benefits you simply can't get with traditional braces:
Subtle Appearance: The aligners themselves are practically invisible, so your friends, family, and coworkers will never notice that you're wearing them, ensuring you'll be able to smile with ease during your treatment.
Comfort: Your Invisalign aligners will be specially designed to fit your individual smile out of smooth plastic.
Convenient: The aligners are easily removable, meaning you can take them out whenever you need to eat or brush your teeth.
Time Saving: Because Invisalign doesn't have to be regularly adjusted like braces, you won't have to make as many progress visits to your dentist in Oklahoma City over the course of your treatment.
Getting Invisalign at Grand Dental Studio
After reading all of this, perhaps you're interested in getting Invisalign, but not completely convinced. You're probably thinking, "Will it really make that big a difference for my smile?"
At Grand Dental Studio, rather than simply wondering, Dr. Michael Kirk and Dr. Dan McNair can actually show you how Invisalign will enhance your smile using our iTero scanner.
This scanner can create a fully digital 3D image of your teeth, and with it, we can show you exactly what they'll look like after having them straightened with Invisalign. We can literally show you your newly transformed smile right on the screen! This will give you something to look forward to at the end of your treatment and the peace of mind that you're making the right decision for your smile.
Ready to Get Started?
Thanks to Invisalign, you'll no longer have a reason to hide your teeth. This sleek and subtle treatment will make sure you're always ready to smile for the camera, and you can get it right here in Oklahoma City at Grand Dental Studio.
If you're ready to get a straighter smile without braces, simply contact us today for an appointment.