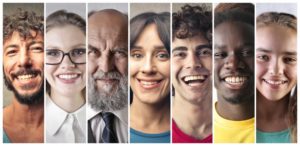 When was the last time you visited a dentist with a mission?
At Grand Dental Studio, our mission is to be more than just a regular dental practice. We work hard every day to consistently exceed our patients' expectations– from their first phone call all the way to when they walk out of our office with a healthy, beautiful smile. How do we do it? Keep reading to learn why we're truly Oklahoma's Best Dental Experience.™
Our Mission Statement
Our practice's philosophy can be easily summarized with our mission statement:
"Our mission is to provide general, sedation, implant, and cosmetic dental care in a way that we hope changes your perception of dentistry. Our vision is to pamper and care for you in ways you have never experienced in a dental office before."
When was the last time a dental practice offered you this level of service?
Meet Our Amazing Doctors
Our office is lucky to have not one, but two excellent doctors: Dr. Michael Kirk and Dr. Dan McNair. Each one attended some of the finest educational institutions in all of dentistry, and they live our mission with our team every day. Both dentists are still improving themselves by frequently attending continuing education courses so they can always stay on the cutting-edge of dentistry. Whenever you come to see us, you can trust that you'll be treated by a doctor who's always able to give you the absolute best that dentistry has to offer.
We Take Care of You in Every Way
In our office, we take care of our patients even before they sit in the treatment chair. How? By always running on time. We always start and end appointments exactly when we say we're going to so that taking care of your teeth never has to impact your schedule. We also have a Relaxation Menu that includes headsets, blankets, neck pillows, and even a beverage bar to ensure that you're comfortable the entire time you're with us. Plus, we even have a beautiful and peaceful Zen garden that will help you relax even more.
Once you're in a treatment room, you'll have access to a comprehensive array of services that can take care of your smile in every way. While we are a general dentistry practice, we also offer many other treatments such as cosmetic dentistry and dental implants. Under our watchful eyes, you won't just have a healthy smile, but a gorgeous one as well!
Come Experience the Grand Dental Studio Difference
Grand Dental Studio is located near the Classen Curve area of Oklahoma City, which is filled with businesses, restaurants, shopping, art…when you come to see us, you'll have plenty to see and explore before and after your appointment! It'll be easy for you to see why people from all over Oklahoma are more than happy to drive in to come see us.
If you're ready to experience this next-level dental care for yourself, then we have some great news: we're currently offering a FREE First Visit.™ Now, you can come see what we're talking about firsthand, and we're sure you'll love us after your very first visit.
If you have any questions about our practice, or if you're ready to schedule your FREE first visit, please contact us today.