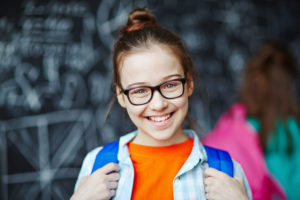 It's just amazing how quickly summer flies by, right? It seems like just a few weeks ago you were getting used to the summer schedule, and now, it's already time for them to go back to school! Of course, that means you have a lot you need to do between getting school supplies together and organizing extracurricular activities. You just want to make sure that your child has everything they need to start the school year strong. In addition to getting them a new backpack, pens, and shoes, you should also make sure that their smile is healthy and problem-free for the new year as well. Now is the perfect time to get a back to school checkup with your dentist in Oklahoma City, and Dr. Michael Kirk and Dr. Dan McNair are going to give you 3 reasons why.

1. You're About to Get BUSY!
The school year is extremely busy for every family in the greater Oklahoma City area, and it's tough to find time to do just about anything else. Once school starts, both you and your children will have very little free time, which means it will be nearly impossible to visit the dentist for a regular checkup without having to miss too much school. Save both yourself and your children the stress of having to rush around and schedule an appointment while you still have plenty of time!
2. Help Your Child Feel Confident!
After a checkup and dental cleaning, everyone just loves how their teeth feel. They're clean, they're polished, and you just can't wait to show them off. The new school year can sometimes be a source of anxiety for children, and a great way to help them start the year with confidence is by giving them a healthy and beautiful smile. This will make it much easier for them to make friends, ask questions in class, and overall just feel more comfortable. This will help them be happier at school and get better grades, which is a win-win for both parents and children alike!
3. It's Important for their Health!
Regular checkups are one of the most important ways to keep a smile healthy and problem-free year after year. When you bring your child to Grand Dental Studio, we'll not only clean their teeth much more thoroughly than they can at home, but Dr. Kirk and Dr. McNair will also examine their mouth to catch any dental issues they might have, including tooth decay, cavities, gum disease, and more. By catching these problems early, your children's dentist will be able to treat them quickly and easily, saving your child time and discomfort while saving you extra expense. By bringing them in for a checkup before school starts, you'll be ensuring your child's oral health, and you'll have plenty of time to take care of any potential issues that might pop up.
There's Still Time!
Some schools are starting now and some have a few more weeks to go, but there's still time to get a checkup before things get too busy. It's one of the simplest and most effective things you can do to take care of your child's health and assure they start the school year off right. To schedule an appointment with your family dentist in Oklahoma City, please contact us today.