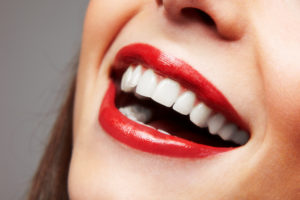 If you have multiple imperfections affecting the appearance of your smile, it can be daunting to consider undergoing several cosmetic treatments to fix them. Fortunately, porcelain veneers provide a solution to any number of flaws — with just one treatment. These thin coverings made of dental porcelain transform the size, shape, color, and overall appearance of the teeth that show when you smile. We have found that most patients are good candidates for porcelain veneers here at Grand Dental Studio.
WHAT ARE PORCELAIN VENEERS?
Porcelain veneers are one of the most popular options in cosmetic dentistry currently available, as they provide something of a do-over for your smile. They are tooth-shaped restorations that are permanently affixed to the front sides of the teeth that show when you smile. Porcelain veneers are fully customizable so that they will always reflect the look that suits you best.
Our veneers are crafted from 100% porcelain, a material that reflects light just like your natural tooth enamel. Porcelain is more resistant to stains than your regular teeth, meaning that they can stay bright white for years after their application.
HOW ARE PORCELAIN VENEERS APPLIED?
After we determine that porcelain veneers are the best solution for your smile, you can expect the treatment to be carried out over the course of two appointments with Dr. Michael Kirk of Grand Dental Studio. During the first visit, we will decide on the specifications that fit your unique needs and put together a treatment plan built just for you.  In some cases, we will need to remove a small amount of tooth enamel from the surface of the front teeth — doing so helps ensure the permanent veneers will lie flat in the smile. In other cases, the veneer can be placed right over the existing tooth, and these are called "no prep veneers" (a popular brand name is Lumineers™). Dental impressions are made, and we will place temporary veneers for you to wear in the time between appointments if needed.
In the second appointment, your dentist will remove the temporary veneers and check the fit of the permanent restorations. After any necessary adjustments are made, the permanent bonding material is placed and the veneers will be securely affixed to your front teeth.
HOW TO MAINTAIN VENEERS
After you receive your veneers, keep up with your good dental hygiene habits to enjoy your beautiful smile. Brush, floss, and visit your dentist regularly, and your veneers can last for many years. Protect your new smile with a custom-fitted mouthguard if you grind your teeth at night or play sports.
WHO IS A GOOD CANDIDATE FOR PORCELAIN VENEERS?
Most adult patients who are in good oral health are qualified candidates for porcelain veneers in Oklahoma City. We usually advise patients to wait until they are older than age 18 to get veneers, as an unexpected growth spurt or change in the teeth could cause veneers to have to be replaced (an expensive undertaking). Additionally, patients should have good periodontal and dental health, free from gum disease and tooth decay, before getting veneers. We will schedule a checkup and cleaning to ensure your smile is healthy before we begin with veneers.
WHY CHOOSE GRAND DENTAL STUDIO?
A craftsman is a person who is skilled in a particular craft, also known as an artisan or a master. When it comes to veneers, Grand Dental Studio is a professional dental practice offering general, implant, cosmetic, and sedation dentistry, and Dr. Michael Kirk is a master at cosmetic dentistry. We use only the highest quality materials, products, and labs with our dental practice. Searching for and managing these vendors is a part of Dr. Michael Kirk's role as Managing Dentist.
Dr. Kirk is also a member of several organizations including American Academy of Cosmetic Dentistry and the International Congress of Oral Implantologists. Since graduation from the University of Oklahoma College of Dentistry in 1997, he has completed a fellowship in Dental Implantology from the University of Texas, and he spends many hours in the classroom keeping up with the best cosmetic dentistry techniques, including veneers.  Dr. Kirk has been in practice over twenty years and prides himself on being a perfectionist.
Grand Dental Studio offers a FREE First Visit™ and free consultations for all new patients or those seeking a second opinion about their options with cosmetic dentistry. At Grand Dental Studio, the entire team is dedicated to providing Oklahoma's Best Dental Experience™. To schedule an appointment, please contact our office today.