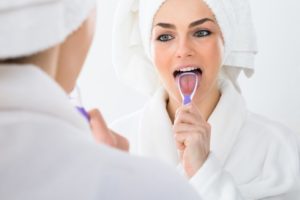 October is synonymous with candy thanks to Halloween, but dentists were wise enough to make it National Dental Hygiene Month as well to balance things out. Everyone knows about the big pillars of keeping your smile clean—brushing and flossing every day—but there are a few extra things you should be doing that you're likely glossing over. Don't worry—this blog will serve as a quick and timely reminder before your home is flooded with sweets.
1. Regularly Replacing Your Toothbrush
Toothbrushes are like fashion trends in that they aren't meant to last forever. The American Dental Association recommends replacing a manual brush as well as a brush head for an electric one about every three to four months. After this length of time, the bristles have likely worn down and started to fray, meaning they won't effectively remove plaque and food debris.


2. Cleaning Your Tongue
Brushing and flossing help remove food debris and harmful oral bacteria from your teeth and gums, but there is an important part of your mouth that often gets overlooked—your tongue! It can also harbor bacteria that can lead to infections like gum disease, plus leftover food particles can cause your breath to be less than pleasant. It only takes a few seconds to clean your tongue—you can do so with your brush or spend a few dollars on a dedicated tongue scraper. You'll quickly notice how much fresher your mouth feels after you start doing this!
3. Cleaning Your Toothbrush
There is an old saying that goes, "If you take care of your tools, they will take care of you." After you brush your teeth, as you can imagine, your brush is covered in a variety of unpleasant things. The best way to get rid of them is to run the brush under some water, and make sure to store it in a dry place with plenty of air circulation. If you want to go a step further, you can soak it in some mouthwash.
4. Letting Your Dental Insurance Benefits Expire
This one goes beyond what you can actually do in your bathroom, but it's just as important as your at-home practices. If you have dental insurance, then your plan likely 100% covers two checkup and cleaning appointments each year. However, most people only attend one. And, plans reset at the end of each year, so if someone misses out on an appointment, it doesn't simply roll over. It's important to get a professional exam at least twice a year so that the subtle signs of potential problems can be found before you develop a cavity or wake up with a toothache.
These practices are simple, proven, and will give you a healthier, more confident smile each and every day—what's not to like? There is still time to schedule another checkup and cleaning before the holidays get into gear, so be sure to reach out to your dentist sooner rather than later!
About the Practice
Dr. Michael Kirk is a family, implant, and cosmetic dentist that has proudly served the Oklahoma City area for over 25 years. Dr. Neeral Patel is a graduate of the University of Oklahoma's Advanced Education in General Dentistry program, considered to be one of the most elite residencies in the country. They always emphasize prevention and hygiene so that our patients can avoid common problems and don't have to pay for procedures to fix them. If you'd like to schedule an appointment with us and make the most of your dental insurance before it expires for 2022, contact us today.