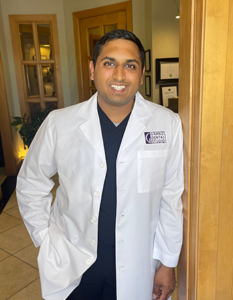 While we're always happy to tell our patients about our new technology and how it will benefit them, we know that what makes our practice truly special is the people. That's why we're thrilled to introduce you to Dr. Neeral Patel! Alongside Dr. Kirk, he looks forward to serving the Oklahoma City community by delivering comprehensive, state-of-the-art dentistry that is fully tailored to each individual. To learn a little more about why we're overjoyed to have Dr. Patel with us, just keep reading!
A World-Class Education
Dr. Patel was drawn to dentistry because he saw that it would allow him to help people on a daily basis, and compared to other healthcare fields, he'd get to do it fairly quickly! This led to him eventually becoming a dental assistant, and he went on to graduate from the University of Oklahoma College of Dentistry (Dr. Kirk's alma mater!).
After this, he took part in OU's Advanced Education in General Dentistry residency, which is considered to be one of the top post-graduate education programs in the country. Thinking back on it, Dr. Patel said, "I really enjoyed my time in my fellowship program because I got extensive experience doing implant dentistry. I enjoyed the challenge of complex cosmetic cases, but mainly I liked helping someone create a smile they deserve – everyone deserves a great smile."
Beyond this, Dr. Patel has completed several more hours of continuing education focused on digital dentistry to further improve the accuracy and precision of his care. Today, he still routinely attends courses through Spear Education.
Life at Home
Dr. Patel is recently married, and one of his favorite things to do with his wife, Binita, is spend time with his young nieces. You'll also find him playing all kinds of sports on the weekends, and he's also into trying many different types of cuisine.
What Dr. Patel Brings to Our Practice
Dr. Patel enables our practice to offer more of the life-changing care we have been providing over the decades. An additional dentist makes it easier for patients to schedule appointments when it suits them best because of extra availability. Plus, Dr. Patel and Dr. Kirk can easily consult with each other on more complex cases to figure out the best treatment plan for a patient.
We're really excited about the future with Dr. Patel, but you don't have to wait to visit him—you can take advantage of his expertise right now! As good as he sounds on paper, he's even better in person thanks to his kind and meticulous nature. He's eager to meet you and give you a truly stunning smile, and to get started, simply click here to schedule an appointment at Grand Dental Studio.