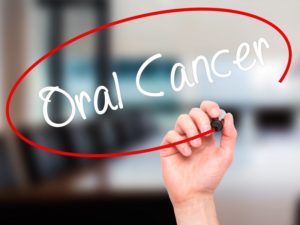 November is officially Mouth Cancer Action Month, and if this is news to you, don't worry—it's an oral cancer awareness campaign that is based in the UK. Every year, over 50,000 Americans are diagnosed with the disease, and it claims about one life each and every hour. Thankfully, treating it is fairly simple when it's detected early, which is why your dentist performs an oral cancer screening as part of every regular checkup. What exactly are they looking for, and what happens if they find something?
The Purpose of an Oral Cancer Screening
The primary reason your dentist performs an oral cancer screening is so they can potentially find signs of the disease early when it's relatively easy to treat. Like other cancers, oral cancer's development is broken up into stages, and your dentist keeps an eye out for the distinct signs of each during your visits:
Stage 0: Referred to as "carcinoma in situ," this refers to the presence of abnormal cells lining the lips or mouth, which may manifest as a sore or bump that doesn't go away after two weeks.
Stage I: A small tumor (two centimeters or less) that has not reached the lymph nodes.
Stage II: A tumor that is between two to four centimeters that has not spread to the lymph nodes.
Stage III: A tumor that is either larger than four centimeters or has spread to the lymph nodes in the neck.
Stage IV: The cancer has spread to the lymph nodes, jaw, tongue, or even distant organs like the lungs.
What Happens if They Find Something?
If your dentist sees something that might indicate oral cancer, they will inform you, and they will recommend that they take a biopsy (small sample) of the suspicious tissue so it can be analyzed. This will be used to determine whether or not the abnormal cells are cancerous. If it turns out that they are, then your dentist will connect you with a specialist so you can discuss your treatment options. Fortunately, when found during its initial stages, the survival rate for oral cancer is over 90%. This is why it's so important to get regular screenings!
How You Can Keep Yourself Safe
No one likes to think about oral cancer, but luckily, there are a few simple things you can do to lower the chances of it developing as well as make sure it's found right away if it does:
Keep up with your regular six-month checkups with your dentist
Avoid using any tobacco products
Keep alcohol consumption moderate
Be careful when drinking extremely hot beverages (frequently burning the mouth can create sores that increase the risk of cancer)
Contact your dentist immediately if you notice discolored tissue in your mouth or a growth/sore that doesn't go away after two weeks
It's no exaggeration to say that an oral cancer screening could potentially save your life, so if it's past due for your next dental checkup, this is another reason why you shouldn't skip it!
About the Practice
Dr. Michael Kirk is a family, implant, and cosmetic dentist that has proudly served the Oklahoma City area for over 25 years. Dr. Neeral Patel is a graduate of the University of Oklahoma's Advanced Education in General Dentistry program, which is considered to be one of the most elite residencies in the country. They always emphasize prevention so our patients can avoid common problems like cavities as well as serious complications due to oral cancer. If you'd like to schedule an appointment and receive an oral cancer screening, contact us today.