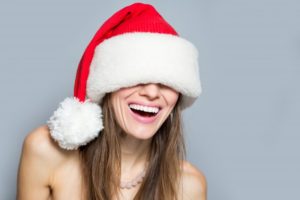 For children, Christmas is all about receiving gifts, but adults know that giving them can feel even more rewarding. However, while you're trying to find the perfect thing for each loved one, you shouldn't forget about another important person—you! One of the best gifts you can give yourself this holiday season is a bright smile that you're always eager to show off. Of course, an easy way to get this is with professional teeth whitening, and here's why it should be on your own personal wish list.
1. It's Fast & Convenient
When it comes to professional teeth whitening, there are two main options: an in-office procedure or take-home trays. In-office whitening involves your dentist applying a powerful bleaching gel to your teeth a few times until your smile is six to eight shades brighter. Altogether, the process takes less than an hour.
Or, if you're comfortable with a slower pace, your dentist can send you home with a whitening kit that contains a gel that is several times stronger than anything you'll find at the store or online. You simply wear the custom mouth trays with the gel as recommended for a few minutes a day, and you'll notice a difference immediately. Typically, it takes about two weeks for the full results to manifest, but you can stop as soon as you reach the perfect shade.
2. Feel Great at Events
Between family get-togethers, office parties, and catching up with friends, your social calendar is probably going to be jampacked over the next few weeks. And most likely, there will be A LOT of pictures being taken. Teeth whitening will not only make sure you feel comfortable in front of the camera, but you can also trust that any photo that ends up online will have you looking your best. That kind of peace of mind is priceless in an age of social media and images staying on the internet FOREVER.
3. The Results Can Last
After a professional teeth whitening treatment, the results can be expected to last for several months to over a year with the right care. What does that mean? All you need to do is brush, floss, and keep up with your regular dental appointments like normal. It's also wise to cut down on things that are notorious for staining teeth, such as darkly colored drinks (coffee, wine, soda) and tobacco use. With these minimal steps, you can trust that your smile will stay radiant through New Years and beyond.
About the Practice
Dr. Michael Kirk is a family, implant, and cosmetic dentist that has proudly served the Oklahoma City area for over 25 years. Dr. Neeral Patel is a graduate of the University of Oklahoma's Advanced Education in General Dentistry program, considered to be one of the most elite residencies in the country. They have helped countless patients achieve their dream smiles using a variety of cosmetic services, including teeth whitening, and they are eager to do the same for you. To learn more about this procedure or book an appointment, contact us today.