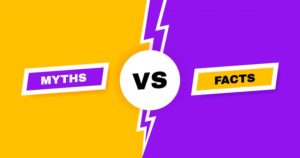 If you're considering getting dental implants to replace your teeth, then it's easier than ever to find information about them. Unfortunately, with the internet being the way it is, much of what you'll read isn't true! To help you separate fact from fiction, here are the five most common myths about dental implants completely DEBUNKED.
Myth 1: Dental implants are just for old people.
While it's common knowledge that people's need for tooth replacement increases as they age, the truth is that over 120 million Americans are currently missing at least one permanent tooth, and a large portion of them are NOT seniors! Dental implants are a great option for any adult with a fully developed jawbone as well as relatively healthy gums.
Myth 2: Dental implants look fake.
Some people worry that if they get dental implants, everyone will be able to tell. The truth is that implants recreate natural teeth better than any other prosthetic because they bring back the root and crown of a tooth. So, instead of having to rely on metal or plastic attachments for support (which will stick out), they are freestanding just like real teeth. This allows them to blend into any smile.
Myth 3: Getting dental implants hurts.
This myth stems from the fact that getting dental implants involves undergoing a minor surgery in which the new roots are placed into the jawbone. Thanks to modern-day techniques and local anesthetic (plus the fact that the jawbone doesn't contain many nerves anyway), most patients report feeling a little pressure during the procedure, but nothing that resembles pain. Some minor swelling or bleeding is common afterward, but these tend to go away after a few days and can be easily managed with OTC medication.
Myth 4: I'll have to take a lot of time off to get dental implants.
Most patients are advised to take off the day of their placement surgery in order to ensure the healing process starts correctly, and after that, most are able to go straight back to work. The only exception is for jobs that involve a lot of physical activity, as too much moving around can interfere with clotting. However, even with this consideration, the most a person would need to take off after getting implants is two to three days, which is very doable.
Myth 5: Dental implants are expensive.
While it is true that dental implants usually cost more compared to other treatments like dentures or bridges, their additional benefits and longevity make them well worth the investment. While a normal dental prosthetic only lasts about 7-10 years on average, dental implants have been shown to endure for 30 or more. And, a regular denture only brings back about 20% of a patient's natural biting force, which can severely limit their diet. With implants, about 70% of the biting force is restored, allowing someone to eat whatever they like without having to worry about slippage or breakage.
While these are certainly the most common myths you'll find, there are many more floating around. So, if you have questions when it comes to dental implants, the best thing you can do is ask an implant dentist in your area. That way, you can have all the information you need before deciding on what's next for your smile.
About the Practice
Dr. Michael Kirk is a family, implant, and cosmetic dentist that has proudly served the Oklahoma City area for over 25 years. Dr. Neeral Patel is a graduate of the University of Oklahoma's Advanced Education in General Dentistry program, considered to be one of the most elite residencies in the country. They have helped countless patients reclaim their smiles using dental implants, and they are eager to do the same for you. To learn more about this procedure or book an appointment, contact us today.