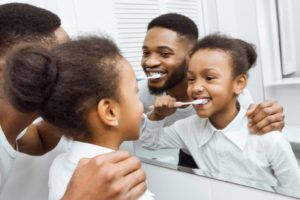 While Valentine's Day and Black History Month usually get all of the attention in February, it's also National Children's Dental Health Month! Conceived by the American Dental Association, it's a time when the unique oral health needs of young smiles are highlighted, and tips are offered to growing minds and parents alike. In this spirit, here are 4 effective tips that will make your child want to brush so they avoid the most common dental problems.
1. Turn Brushing into Family Time
One of the most common struggles that dentists hear about is parents trying to get their children to brush consistently. When they let the child do it themselves, they either don't brush long enough (at least two minutes twice a day is recommended) or miss their back teeth.
Rather than watching over your child like a hawk or simply hoping for the best, an easy solution is to just brush alongside them! This way, you can keep an eye on what they're doing while also modeling the kind of behavior you want them to follow. For little kids in particular, they absolutely love feeling included. Over time, this routine will become a habit, so you won't have to brush beside them as they get older (even though you'll probably want to!).
2. The Power of Praise
Numerous studies have shown that praising a child while they are brushing increases the chances that they will do it while also using the right technique. The key is that the praise focuses on their effort ("Good job! You can reach those back teeth!") as opposed to more granular aspects like how they are holding or moving their brush. By adding encouragement to the mix, this motivates the child to clean their teeth while turning the entire experience into a positive one they'll actually look forward to.
3. Beware of SSBs
"SSB" stands for "sugar-sweetened beverages," which refers to drinks with a high amount of added sugar. This includes soda, sports drinks, and even most fruit juices. It is easy for anyone to overconsume these drinks because they are so palatable, and this ends up exposing the enamel to a high amount of sugar that feeds the oral bacteria that creates cavities and gum disease. If your child is thirsty, unflavored water is always the best choice. Treat SSBs like candy and only allow them as special treats!
4. Count on Your Child's Dentist
While it's fairly common knowledge that you should bring your child to their dentist for a checkup and cleaning every six months, it should also be said that you can reach out to them between these visits with questions. When should their teeth start falling out? Are they ready for an electric toothbrush? What should you do about their toothache before they can come to the office? In addition to offering hands-on care, your dentist is also a great source of knowledge and education so both you and your child can be empowered to look after their teeth between visits.
About the Practice
Dr. Michael Kirk is a family, implant, and cosmetic dentist that has proudly served the Oklahoma City area for over 25 years. Dr. Neeral Patel is a graduate of the University of Oklahoma's Advanced Education in General Dentistry program, considered to be one of the most elite residencies in the country. They love showing children that there is nothing to be afraid of at the dentist while putting them on the path toward a lifetime of healthy smiles. If you have any questions about your child's oral health or want to schedule their next appointment, contact us today.