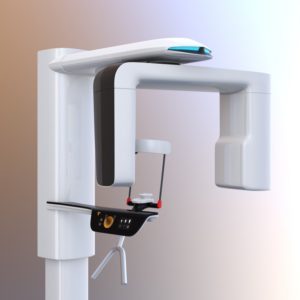 Again, we have upgraded!
Grand Dental Studio prides itself on having a state-of-the-art facility, and to ensure that stays true year after year, we consistently invest in the latest, proven technology. Our most recent purchase is the Dentsply Sirona Axeos CBCT scanner, which will allow us to take our diagnostic services and treatment planning to new heights. How will this affect your appointments with us moving forward? It will change things quite a bit (for the better), but here are the most important points we want to highlight.
A 3D Guide to Your Oral Health
CBCT stands for "cone beam computed tomography," which sounds complicated, but practically, our new scanner can create a comprehensive three-dimensional image that includes your teeth and jaws in precise measurable detail, which is much more information than a typical dental X-ray.
This allows our team to see the "big picture" as well as the "small picture" when it comes to your oral health, which will make things easier for both you and us. We can literally give you a guided, 3D tour of your dental anatomy so you and our team are always on the same page.
Enhanced Treatment Planning
We can also use our CBCT scanner to formulate much more precise and personalized treatment plans for complex services. Whether it is an implant, endodontic (root canal), or a surgical procedure, this 3D technology will lead to a more predictable (and positive) result for our patients as well as a smoother experience from start to finish. The images from the scanner allow us to see and take account of details that we couldn't visualize before, like the location of sensitive facial nerves.
Better Long-Term Monitoring & Diagnostics
Your mouth is changing all the time as you age, but these changes are subtle and happen quite slowly. Keeping an eye on your teeth, jaws, and oral tissues as the months and years go by enables our team to spot minor problems and take care of them before they can turn into pain or damage. With our CBCT scanner, minor differences between your appointments will be much clearer, so we can be extremely proactive with your care.
Please don't hesitate to ask us questions about our new technology. We would love to show you!
About the Practice
Dr. Michael Kirk is a family, implant, and cosmetic dentist that has proudly served the Oklahoma City area for over 25 years. Dr. Neeral Patel is a graduate of the University of Oklahoma's Advanced Education in General Dentistry program, considered to be one of the most elite residencies in the country. Together, their approach includes continually updating our practice so that our patients always benefit from the very best that modern-day dentistry has to offer. If you'd like to schedule an appointment with us and see what true 21st-century dental care feels like, contact us today.