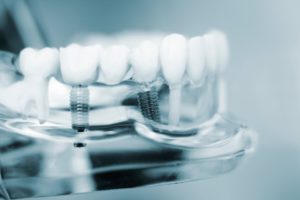 You've seen billboards. You've watched commercials. Maybe some of your friends have them. Whatever the case may be, you find yourself hearing about dental implants more and more often these days. You know they help replace missing teeth, but what exactly are they? How does the procedure work? Should you consider them for your own smile? While there is a lot to know, this blog will ensure you're better informed and have a basic understanding of one of the most popular dental treatments available today.
What Exactly is a Dental Implant?
Essentially, a dental implant is a prosthetic tooth root. Literally, it is a small titanium post that is surgically placed into the jawbone in the space left by a missing tooth. There, the nearby bone actually grows around it through a natural process called osseointegration. Once the implant itself is set, a crown, bridge, or denture can be attached to it to restore the visible portion of the tooth/teeth.
What Makes Dental Implants Unique
Traditional bridges and dentures sit on top of the gums and replace the visible part of teeth as well as some of the nearby soft tissue. Dental implants go a step further by bringing back the root as well. This leads to several benefits that only they can offer:
Dental implants are much more stable compared to traditional prosthetics
They have been shown to last for 30 years on average and often longer
Implants don't shift like regular bridges or press on the gums like dentures
The posts prevent the bone loss that can lead to future tooth loss
They help support the skin and muscles of the face, which can create a younger appearance
Patients can eat whatever they like and have no dietary restrictions
Regular brushing, flossing, and semiannual checkups are all that's needed to maintain implants
How Does the Procedure Work?
The dental implant process is different for each patient, but overall, there are four basic steps everyone goes through:
An initial consultation where the dentist examines the patient and asks about their goals to see if implants would be a good fit for them.
Surgical placement of the implant posts into the jawbone, which is a minor procedure that is very comfortable thanks to modern methods.
A period of three to six months during which the patient's mouth heals and osseointegration takes place.
Finally, the patient returns to their dentist so their new restorations can be attached to their implants.
Truthfully, this is just scratching the surface when it comes to dental implants, but you should now have a much better idea of what advertisements and friends are talking about. Of course, the best person to ask about them is your dentist. They'll not only fill in the details, but they can also let you know if this treatment should be on your radar.
About the Practice
Dr. Michael Kirk is a family, implant, and cosmetic dentist who is a Fellow of the International Congress of Oral Implantologist, and he has a Dental Implantology Certificate from the University of Texas. Dr. Neeral Patel is a graduate of the University of Oklahoma's Advanced Education in General Dentistry program, considered to be one of the most elite residencies in the country. If you have any questions about dental implants and want to know if they would be a good choice for you, contact us today to schedule your one-on-one consultation.