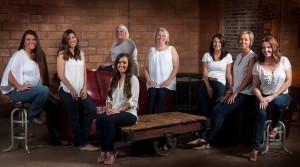 At Grand Dental Studio, Dr. Michael Kirk and Dr. Janice Henry are committed to providing patients like you with Oklahoma's Best Dental Experience™. That means making sure that from the moment you first call our office, you feel welcome, heard and at ease with our whole team. Because visiting the dentist doesn't have to be a chore, or something you dread — and we believe it shouldn't be. Read on to learn how Grand Dental Studio in Oklahoma City is committed to providing you with nothing short of excellence in dentistry.

Offering You Oklahoma's Best Dental Experience ™
So you know that you'll have the best dental experience at Grand Dental Studio — but what exactly does that mean? We're happy to explain it. At our dental office in Oklahoma City, we're focused on providing you with the following, which we believe to be absolutely essential to good dental care.
Service
We believe in the "golden rule" and we treat our patients like a close family member. Your experience begins at the reception desk follows you to the treatment room and ends at the check out area. Every step of the way, you will interact with team members love what they do and are there to serve you. The customer comes first in our office!
Quality
First and foremost, we care about the quality of dental services we provide at Grand Dental Studio. We know that it doesn't matter how many exciting amenities we offer if you can't trust us to take the best care of your teeth. That's why we offer families in Oklahoma City and surrounding areas top-quality services in general and preventive dentistry, cosmetic dentistry, implant dentistry and sedation dentistry.
Professionalism
At Grand Dental Studio, we firmly believe in maintaining the utmost in professionalism. We're the dentists you can trust, and we strive to maintain that reputation. So what does professionalism look like at our office? It means we start and end every appointment on time, so you don't have to spend your time in the waiting room. And it means we offer same-day appointments to treat your dental emergencies — because you shouldn't have to suffer with dental pain just because there's not an opening at your dental office. We get you in the same day.
Overall Wellness Philosophy
We're proud to maintain a practice philosophy that's focused on preventive care and patient education. We know that the key to maintaining a healthy smile for life is making sure problems never get the chance to start — and that's where patient education comes in. When you have all the tools and knowledge you need to take great care of your teeth, it makes our job a lot easier. The team at Grand Dental Studio firmly believes that when it comes to your oral health, we're in this together.
FREE First Visit™
We're confident that we offer the very best in dentistry and we want everyone to see for themselves what sets Grand Dental Studio apart. That's why we're excited to offer a FREE First Visit™. Regular dental checkups are essential to excellent dental health, but recent statistics indicate only about half of Oklahomans visit the dentist twice annually, as recommended. Schedule your Free First Visit™ with Grand Dental Studio — it includes a comprehensive exam and x-rays. Your oral health can't wait — call today!