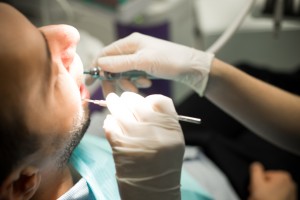 At Grand Dental Studio, our skilled dentists see many patients with minor to severe dental flaws who would like restore or enhance their natural smile, but the thought of enduring complex dental treatments that are uncomfortable at best and painful at worst deters them. As part of our commitment to providing patients the best dental experience in Oklahoma, we recommend considering sedation dentistry to diminish pain and making your dental visit peaceful and productive. Call to schedule a sedation dentistry consultation with your Oklahoma City dentist today.
Why Consider Sedation Dentistry during Cosmetic & Restorative Dental Treatments
For patients interested in the expert cosmetic and restorative dentistry services Grand Dental Studio offers, enduring long treatment times or experiencing painful procedures discourages them from seeking the beautiful smile of their dreams. At Grand Dental Studio, we have a skilled anesthesiologist that allows us to offer expert-level dental sedation that is 100% safe and effective. Patients who utilize sedatives during dental treatment receive professional care with none of the pain or discomfort. If that weren't enough, sedatives have even been shown to significantly decrease post procedural pain and healing time.
Grand Dental Studio – The Sedation Dentist Oklahoma City Residents Prefer
In keeping with our passion for patient comfort and convenience, a licensed anesthesiologist at the Oklahoma City dental practice you trust provides three types of sedation dentistry to meet the needs of any patient.
Oral Conscious Sedation – The Grand Dental Studio team prescribes an oral sedative to be taken at a predetermined time before the procedure. Patients will need a friend or family member to drive them to and from our dental practice and monitor their recovery. Patients who choose oral conscious sedation remain awake during treatment, but typically forget their visit after completion. Patients are able to resume regular activities the day after treatment.
Nitrous Oxide Sedation – Because the effects wear off quickly, nitrous oxide is a great choice for patients who can't commit an entire day to treatment and recovery. Patients who choose nitrous oxide sedation are able to drive themselves to and from appointments. Throughout the procedure, nitrous dosage can be adjusted for optimal relaxation, and though patients are awake, nitrous oxide received the nick name "laughing gas" because of the euphoric state its users enter. Within minutes, patients can return to their typical routine.
Intravenous (IV) Sedation –Like nitrous oxide sedation, the dosage is easily adjusted throughout the procedure. Under the influence of IV sedation, patients remain awake but relaxed during the procedure, but will need a friend or family member's assistance throughout the day. After treatment, patients typically go to sleep for one or more hours, and shouldn't plan to resume their daily routine until the following day.
Call the Family Dentist Oklahoma City Relies On
If you're interested in finding out more about sedation dentistry at Grand Dental Studio, call to schedule a consultation today, or ask our Oklahoma City dental team during your next checkup. We're always happy to help patients relax, and receive necessary dental care in comfort and peace. We welcome the whole family to our convenient Oklahoma County dental practice.