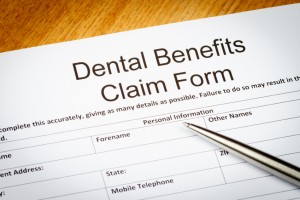 Can you believe it's already November? This time of year always sneaks up on us. Before you know it we'll be getting ready to celebrate the start of 2016, and that also means the end of your dental benefits for 2015. That's right — you've paid for those benefits all year long, but any money remaining in your account or within your limit won't roll over for next year's dental treatments. Keep reading to learn more about how you can make the most out of your dental insurance before the year's end, then schedule your appointment with Dr. Michael Kirk, the family dentist in Oklahoma City, before it's too late!
You've Earned Your Dental Benefits: Now Use 'Em or Lose 'Em
It's hard to keep up with the rules of any insurance plan, and it certainly hasn't gotten any easier lately. That's why Grand Dental Studio wants to remind you that most dental plans expire at the end of the year. If you've got a flex or health savings account, any money that's left in your name will be forfeited. And as for regular insurance plans, if you haven't reached your maximum yearly allowance, or the money you're entitled to each year, you'll lose that, too. Come 2016, you'll have to meet another deductible — and because insurance plans are always changing, it could be higher than ever.
It's simple. Use your 2015 dental benefits before it's too late — or lose them entirely.
Here are some steps you can take in order to maximize on this year's dental insurance.
Call your insurance provider and find out how much you have left to spend in 2015 — and verify that these benefits are on a calendar year. Very few dental plans work on a fiscal year, but some do.
Find out what dental treatments your insurance covers. Most offer only preventive treatments, but sometimes cosmetic services are covered, too.
Once you fully understand everything about your 2015 benefits, call to schedule an appointment for you and the whole family at Grand Dental Studio. Your Oklahoma City dentist will help you save money — and you'll get healthy teeth in return.
Take Advantage of Your Dental Benefits for Your Oral Health
Using your dental benefits before they expire isn't only good for your budget — it's also crucial for your oral health. Twice annual visits to the dentist include a dental exam, a thorough cleaning and x-rays, too. These preventive steps are vital to maintaining healthy teeth, and are also usually 100 percent covered by your dental insurance. Catching signs of decay or other problems while they're small saves you a lot of time, pain and money overall.
Don't forget that December is the busiest month for Grand Dental Studio, so don't wait — contact us to schedule your appointment today!